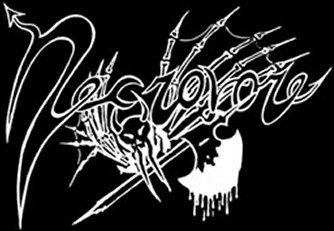 Track 10 ends with a quick spoken word snippet in Norwegian. There's a sketch of Arne Babb printed on the disc. You are free to draw your own conclusions on who graced us with this CD...
---
Unreleased Evil
Tracks 1-4 - demo 1987
Tracks 5-8 - re-recording of original demo, 1988(?)
Tracks 9-13, 15 - live San Antonio, TX
(possibly Cameo Theatre, May 1988?)
Track 14 - ????
New Braunfels Records
73:57
Given tracklisting:
Correct tracklisting:
1. Mutilated Death
1. Mutilated Death
2. Slaughtered Remains
2. Slaughtered Remains
3. Divus De Mortuus
3. Divus De Mortuus
4. Toxic Decay
4. Toxic Decay
5. Demented Evil
5. Mutilated Death
6. Mutilated Death
6. Slaughtered Remains
7. God Of The Dead
7. Divus De Mortuus
8. Toxic Decay
8. Toxic Decay
9. Demented Evil
9. Intro/Mutilated Death
10. Mutilated Death
10. Slaughtered Remains
11. Chaotic Malevolence
11. Chaotic Malevolence
12. God Of The Dead
12. Divus De Mortuus
13. Toxic Decay
13. Toxic Decay
14. Treacherous Abomination
14. Treacherous Abomination
-- --
15. Treacherous Abomination
There is a split-second drop-out 3 seconds into track 4.
Tracks 5-8 are from the re-recorded "clean" version of the demo. There's actually an excerpt from a Voices from the Darkside interview in the booklet where you can read about the circumstances of the re-recording. However, contrary to what the interview seems to indicate, this second version of "Slaughtered Remains" is definitely not the same as the one on the "Satan's Revenge II" comp. LP.
There's no intro for the re-recorded demo; "Mutilated Death" just fades in a bit into the song. All of the bandmembers condemn these recordings for being too clean and sterile, and while they don't have the evil rawness of the original demo recording, I find them interesting because the vocals and riffs are clearer. Also note while the general consensus seems to be these tracks are from 1988 (and the bootleg lists them as such), I've never seen Necrovore themselves give definitive info about the recording date.
The third portion of the bootleg are tracks listed as "live in San Antonio 1987." Tracks 12 and 15 match up with old video footage. Here, the sound of the live tracks isn't quite as thick and distorted as in the video, but they're still not that great in terms of quality. I actually rather dislike the live vocals, as they're mostly barked/grunted in a rapid-fire fashion and don't have the same rawness and reverb as the demo tracks. Bjorn Haga has mentioned in interviews the video footage is from his first gig at a San Antonio band showcase (with Militia and others) from May 1988.
The live intro is an extended 2+ min. version of the demo intro.
There is a fade-out/fade-in between tracks 10/11, and a break between 11/12. There's no actual break in the audio between tracks 12/13, but there's a sudden change in the background noise volume when track 13 starts that makes me think they weren't continuous.
At 4:57 of track 13, the right channel drops out for a split second. There's also a quick drop-out at 1:20 of track 15.
Track 14 seems to be some sort of rehearsal track. The sound quality is better than the live tracks, but the vocal style is similar. The track begins with a guitar/narration intro that reminds me a bit of Morbid Angel's "The Invocation." The songtitle is actually mentioned at the end of the intro bit at 2:32. Then before the song is fully completed, it fades out at 4:37 and the rest of the track is over 8 minutes of silence.
Track 15 is another version of "Treacherous Abomination," performed live, but without any of the intro stuff that was on track 14.